Maturen, Hall In Close Battle For 63rd House GOP Nod
The two high-profile bills House Speaker Tom Leonard put up on the board only to see them fail and were opposed by Rep. David Maturen are central issues in the 63rd House District Republican primary, along with President Donald Trump, for his opponent Matt Hall in one of the closer races coming up on primary election day.
And with 13 days before election day, the race is heating up with robocalls, push polls and outside groups filling mail boxes of residents in the 63rd House District.
Mr. Maturen (R-Vicksburg) is one of the more centrist members of the House Republican caucus. Mr. Hall of Emmet Township is running to the right of Mr. Maturen and highlighting his strong support for the president and attacking Mr. Maturen for voting no on the auto insurance bill that came up this year in the House, and failed to pass, and the income tax roll back in early 2017, which also failed.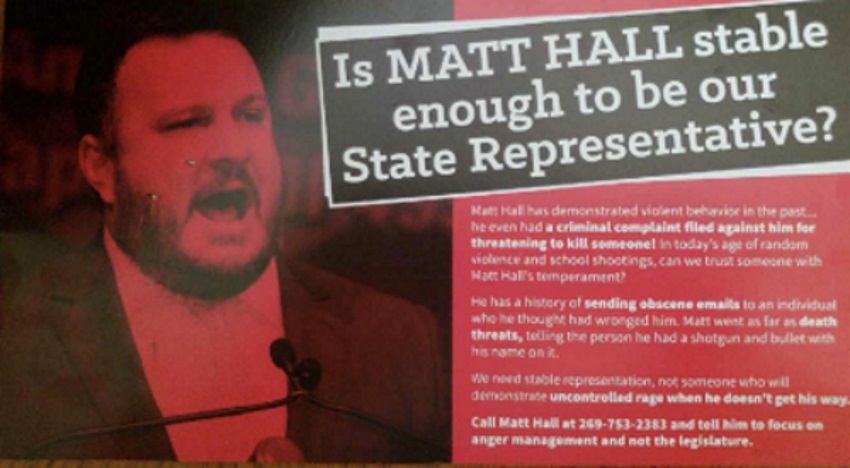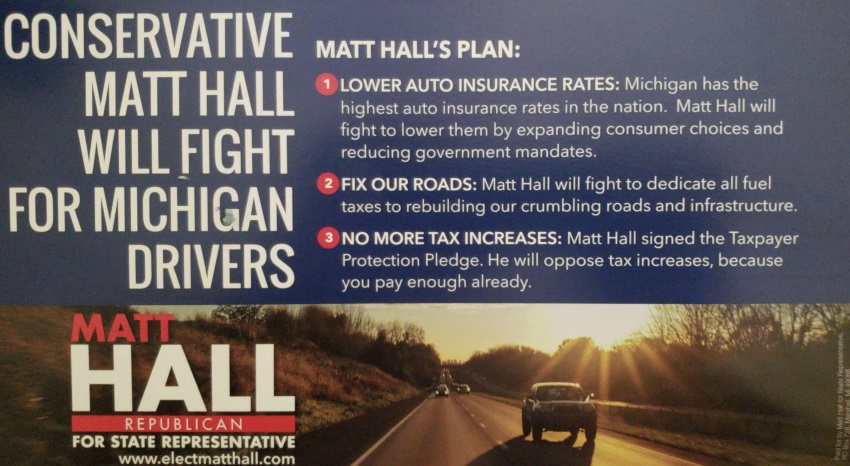 Mailers sent by outside group against Matt Hall (above) and against Rep. David Maturen (below) in the 63rd House District.
Sources speaking anonymously said the race will be close, and Mr. Maturen is in jeopardy. Another factor is the potential that House Republicans face of a slimmer majority next term, and Mr. Maturen is not necessarily seen as a reliable vote, as he doesn't always toe the party-line.
While Mr. Hall is going to the right of Mr. Maturen and criticizing votes he has taken, outside groups are also getting involved on both sides. For Mr. Maturen, Citizens for Energizing Michigan's Economy, a group backed by Consumers Energy, has sent mailers touting his vote for SB 897

, which creates Medicaid work requirements, and IL 1

and Enacted SB 3

of 2015.
Business Leaders for Michigan has also sent mail supporting Mr. Maturen and Don Gilmer, who represented the area from 1976 until 1998

in the House and worked in John Engler's administration, has done robocalls supporting Mr. Maturen.
Michigan for Traditional Values, a group with unclear ties, has also sent mail attacking Mr. Hall. The mailer sent by the group in question highlights emails Mr. Hall sent in 2001 threatening another person.
"Is Matt Hall stable enough to be our state representative?" the mailer says.
Gongwer obtained the emails sent by Mr. Hall in 2001 and a signed statement from Mr. Hall when he was a student at Western Michigan University stating he was not really going to hurt the individual and it was unacceptable behavior.
On Wednesday, Mr. Hall said it was 17 years ago and the emails have surfaced in past races, so are nothing new.
"It was two nonsensical emails in one day and I regret it and it was wrong," Mr. Hall told Gongwer. "I accepted responsibility. I apologized, and it was dropped."
The mailer implies the emails from Mr. Hall were racist. One said: "The South will rise again, and we don't like your kind around here." Mr. Hall said the emails were not racist and were directed toward a white individual, though he reiterated they were inappropriate.
Mr. Hall said he would have voted to reduce the income tax, will defend right to life, support the Second Amendment and continue to defend Mr. Trump. He said he would have voted yes on HB 4001

to reduce the income tax and HB 5013

, which would have overhauled the state's auto insurance system.
"I think we should have a conservative representing the 63rd District," Mr. Hall told Gongwer News Service.
Two weeks out, Mr. Maturen said he is feeling good. He is hitting the doors hard, he said, and will continue to do so up until the polls close.
"I like to point out that I have four years under my belt," Mr. Maturen said. "I understand a lot of issues in Lansing."
Mr. Hall has also been focusing on his support for Mr. Trump. Mr. Maturen, before the 2016 election, said during a radio program he couldn't endorse the now-president because he couldn't face his three daughters and his son-in-law, who is Mexican, if he had done so.
Mr. Maturen, who said he is not a "never-Trumper," said Mr. Hall's mailers often include a picture of him with Mr. Trump at the Republican National Convention.
"I was at the convention too, I just didn't get my picture taken with Donald Trump," he said. "I hope the rest of the folks realize I am not running for Congress."
He also said Mr. Trump is shaking things up and "maybe that is good to some extent," but overall his thoughts on the president have not changed.
Mr. Hall in a television advertisement highlights Mr. Maturen's comments about Mr. Trump and contrasts that with his early support of the president.
"I believe that the voters of the 63rd will elect a conservative," Mr. Hall said. "And I am conservative. They will elect me because I will vote to cut their taxes, I will defend their right to life, I am a supporter of the Second Amendment and I am a defender and early supporter of Donald Trump."
Mr. Maturen said when he explains his votes on the auto insurance bill, which he said was flawed and would not have saved the money supporters said it would, and the income tax rollback, which he said would have put a significant hole in the budget with no plan to pay for it, voters understand.
"I hope people like the fact that I was able to look into things, dig into things and not just come back with a couple talking points," he said.
Back to top